Île aux fleurs, a quality restaurant in the heart of Neudorf
Gastronomy
21 December 2017
admin
We finally took the time to test the restaurant Île aux fleurs which reopened last June next to the Neudorf marketplace. The least we can say is that we were certainly not disappointed and we wanted to share this with you.
The delicious cordon bleu dish at Île aux fleurs
The restaurant offers French and regional cuisine. Before going to the restaurant, a couple of friends recommended us the cordon bleu, which is one of the chef's specialties. We followed  the advice and we did not regret it a minute! There were several types of cordon bleu to choose from, but we felt that a classic meal would be great for the evening. The dish was well prepared and it was served with small vegetables and homemade fries. We gave in to temptation just before the holidays but it was for a good cause! We really had to test the menu for you. For this delicious healthy dish we only paid 14 € so we can say that the prices here are reasonable.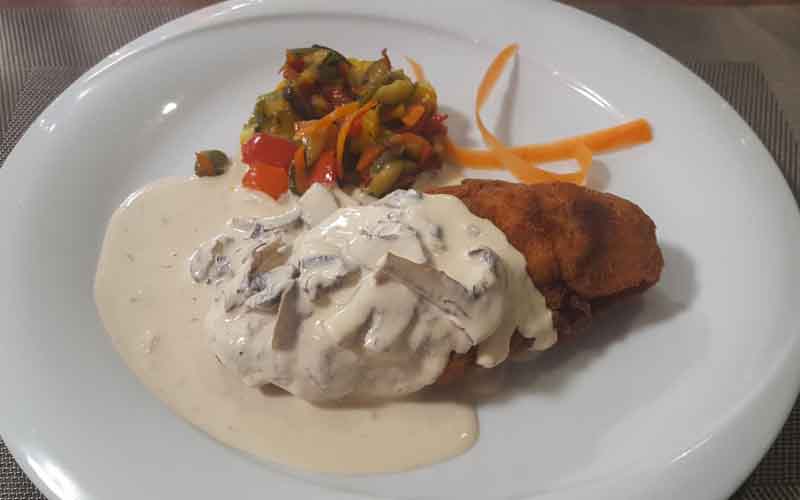 A welcoming service
In addition to the quality of the meal, we took note of the warm welcome of Hicham's team, which was primarily concerned about our comfort without interfering too much. We feel that is important to add the fact that we never told that we were a member of GetEatOut because we didn't want to have some sort of preferential treatment. The restaurant was warm and was rather crowded for a weekday evening. The service was fast and we were able to enjoy our meal in due time. Big plus: We enjoyed discovering the private part which can be booked if you want to spend a great evening with friends.
And dessert, can we talk about dessert?
As true food lovers, we find it difficult to finish a meal without tasting something sweet! The dessert menu is rather enticing and we choose the gourmet tea that enables you to taste several sweets. The dessert included a panacotta, a scoop of vanilla ice cream, a mellow and a tiramisu. We appreciate the restaurants where we get good value for money and this was clearly the case (5 € for a gourmet tea)
We will come back with pleasure to taste the cheese cordon bleu that made it into our list of temptations. Therefore, we have a good reason to come back with an empty stomach after the holidays to order the cheese cordon bleu.