Harmonie, a new Asian & vegan restaurant in Strasbourg
Gastronomy
11 September 2017
MN
We discovered with great pleasure Harmonie Bowl & Juice, a new Asian vegan restaurant nestled close to Place Saint-Etienne. We wanted to share with you the values of this place via an article retracing our impressions.
A vegan and Asian restaurant
This place is primarily the fruit of the project of two driven people:
Quentin has been working in restaurants for twenty years, including the Chinese Feast, a Chinese caterer in Illkirch and Koenigshoffen. The latter has always wanted to use his experience to create a project that made sense alongside his wife Meylee.
Meylee,, naturopathic specialist, studied at ISUPNAT of Paris (FENA Group). Her studies helped her embrace a vegan diet, which often is born from the concern for the well-being of animals. She has always wanted to show that being vegan is not always about depriving yourself, but simply a different view on food. For her, eating vegan is especially the opportunity to return to the real basics of nutrition.
After two years of traveling and discovering new flavors, they found the perfect place to give a shape to their project. Since August, 2017, they have been offering vegan meals and drinks inspired by their Asian origins.
Harmony Bowl and Juice, a real life project
This place presents itself as a real life project because Quentin and Meylee live largely in the hope of being consistent with their convictions, and not to earn money by contributing to the slaughter of animals. They simply want to please the people who walk into their place. They baptized their restaurant Harmonie because they wish to live in harmony with the environment, offer balanced dishes (without any arrogance in using the knowledge which they possess) all with sweetness and benevolence.
And what about the menu?
On the menu there is a verity of choices:
for breakfast different Smoothie Bowls (muesli or granola) accompanied by a juice and a hot drink,
for lunch Bio Bun (Bo Bun vegan), rice curry and seasonal vegetables, all served in bowls made by a craftsman from Strasbourg.
For drinks, it includs Kyo Kombucha, teas Garden Gaia, Matcha Latte …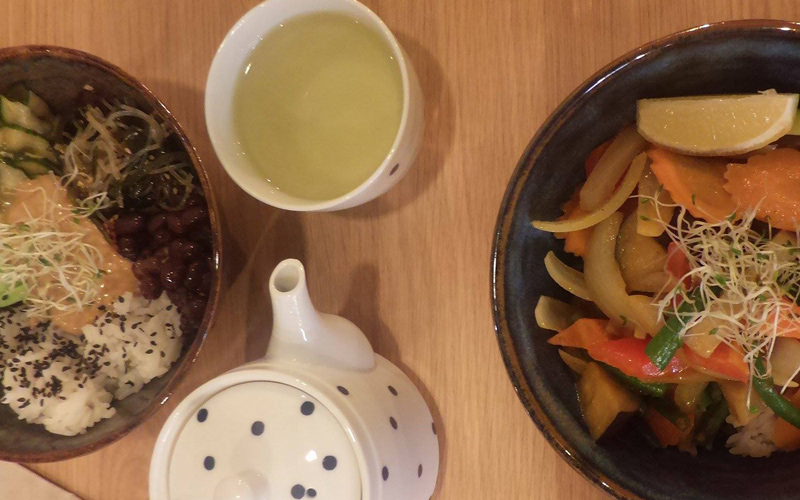 We loved chatting with Quentin and Meylee who transported us into their world. A beautiful discovery that deserves to be known by so many of you! So go for it!